XTREME CUBES
Xtreme Cubes begin as structural space frames available in 8ft, 10ft, or 12ft widths & lengths with a standard height of 10ft (12ft height optional).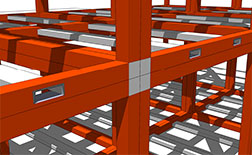 Modular Construction with Integrated Fork Pockets
Xtreme Cubes are the next generation of modular construction. Portable, durable, and highly customizable, Xtreme Cubes can be designed for any application in any location.
---
Residential Applications
Cube Cabin: Duck Creek, UT
---
Download Xtreme Cube Multifold