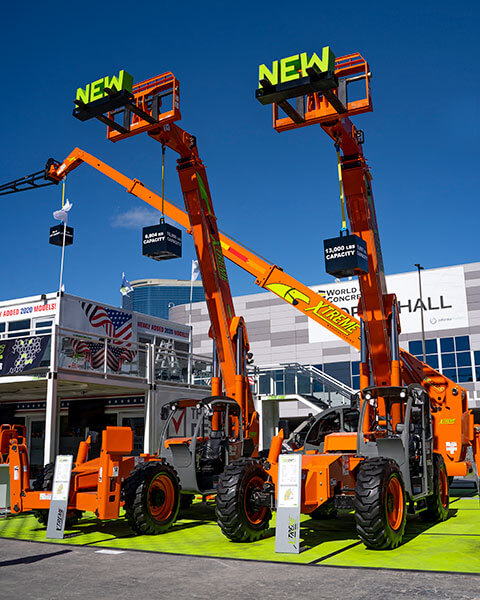 Xtreme Manufacturing today launched three brand new rough terrain telehandler models on their booth at World of Concrete 2020. The new C-class models, which expand the Xtreme product line up to 19 models, are the XR1347-C, XR1547-C and XR1555-C.
Designed as a replacement for the 12,000 lbs. capacity XR1245, the new XR1547-C can lift up to 15,000 lbs. (6,803kg), has a maximum lift height of 47 ft. (14.3m) and a maximum forward reach of 31 ft. 6 in. (9.6m), and comes with outriggers as standard. The 13,000 lbs. (5,897kg) capacity XR1347-C is the same machine as the XR1547-C, however does not require outriggers.
Weighing 35,200 lbs. (15,966kg) and 36,800 lbs. (16,692kg) respectively, the XR1347-C and XR1547-C both offer frame leveling up to 11°, and are dimensionally the same measuring an overall width of 101 in. (2.56m) and stowed length to the fork face of 21 ft. 3 in. (6.47m). The lifts have a ground clearance of 16.5 in. (0.41m) for tackling rough terrain and a turning radius of 12 ft. (3.66m).
The new C-class Xtreme XR1555-C is a replacement for the original B-class XR1255, offering 3,000 lbs. (1,360kg) additional lift capacity. For customers operating a fleet of XR1255 telehandlers with associated B-class attachments, Xtreme will offer the new design XR1555-C as a B-class variant, branded as the XR1255-B. The XR1255-B will benefit from the features of the new design, including an improved load chart, but will be compatible with existing B-class carriages.
The XR1555-C can lift up to 15,000 lbs. (6,803kg) and has a maximum lift height of 55 ft. (16.7m), and a maximum forward reach of 38 ft.5 in. (11.7m). It features a new higher capacity fuel tank, which can hold up to 100 gallons (378L), increasing the work cycle between refueling. Measuring 101 in. (2.56m) wide, the XR1555-C weighs in at 38,460 lbs. (17,445kg) and offers frame leveling up to 11°.
With a focus on commonality across the product line, the three new models share a similar chassis, cab, and electrical and hydraulic systems with other recently introduced models, including the XR843-B, XR944-B, XR1055-B, and XR1147-B. This helps to improve both operator and service technician familiarity with the Xtreme family of telehandlers, and also helps to reduce parts inventory for customers running a fleet of Xtreme units.
All three units are electric over hydraulic, and features Xtreme's new modular cab design, which enables the cab to be easily switched from open to enclosed, or vice versa, with an optional kit. This provides customers with greater flexibility when operating their telehandlers in multiple environments.
The new cab has also been upgraded with a more modern, user-friendly design, and includes a USB port for charging cell phones and other devices. Additional air vents have been installed throughout the cab for increased air conditioning circulation. The new design cab, which is now fitted to all Xtreme models from the XR843-B to the XR1555-C, has new storage pockets for carrying straps, chains and other items securely on the lift, and on the XR1255-B and XR1555-C models, there is a toolbox built into the rear of the cab, thanks to the extended wheelbase.
The three new lifts are powered by a Cummins 3.8L 120hp Tier 4 Final engine, and are available with either foam filled or solid tires. Offered with a choice of three cab configurations – open; enclosed; or enclosed with heat and air conditioning – the units can be fitted with a wide range of C-class attachments, including pole grapples, sling mounts, truss booms, buckets and personnel platforms, in addition to the range of fixed and fork positioning carriages and fork tines.
Common with all Xtreme telehandlers, the new models have 360° operator visibility from the cab, intuitive controls that enable the operator to keep one hand on the steering wheel at all times, and a machine-rated boom lift point for safe handling of suspended loads.
Xtreme Manufacturing is also introducing updated model nomenclature for the new decade, which is designed to make it easier to identify the model carriage class, for the purpose of utilizing attachments on the jobsite. The new look nomenclature will use the existing model name format, i.e. XR1570, but will add the carriage class as a suffix, i.e. XR1570-C, and will be applied to all current production models.
Backed by Xtreme's industry-leading 10-5-2 warranty, the XR1347-C and XR1547-C are already in production at Xtreme's Henderson, Nevada manufacturing facility, and the XR1555-C will commence production in early Q2 2020.
For more information on Xtreme Manufacturing, visit booth #O30099 in the Silver Lot at World of Concrete 2020.