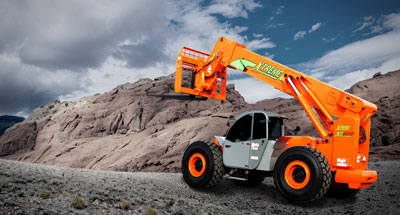 "The Xtreme Difference. It's more than just a phrase. It's who we are and what we do."
Started in 2003 with just a few models of rough terrain telescopic handlers (also known as 'telehandlers'), Xtreme Manufacturing now offers the largest product line in North America. Spanning 16 models, with lifting capacities ranging from 5,900 lbs to 70,000 lbs, Xtreme has a telehandler for almost any application.
Dissatisfied with the telehandlers available in 2003, Xtreme Manufacturing owner Don Ahern set about creating his own telehandler which delivered outstanding performance and used high quality, reliable components which increased the life of the machine and ultimately reduced the total cost of ownership.
Xtreme's idea to 'do it different and do it better than anyone else' has quickly become the industry standard in performance, innovation, safety, quality, and reliability. With all products built in North America and backed by an industry-leading 10yr-5yr-2yr warranty, Xtreme stands firmly behind the quality of their products.
They have applied this philosophy to a number of other products, including the innovative Xtreme Cube. This incredibly versatile modular building system can be tailor made to suit virtually any application, including office space, maintenance facilities, server rooms, retail complexes, trade show booths, and many more.
Xtreme Manufacturing, LLC is headquartered in Las Vegas, Nevada, and has fabrication facilities in Selma, California. In October 2013, Xtreme became the majority shareholder in Snorkel, a global aerial work platform manufacturer, which has manufacturing facilities in the US, UK & New Zealand, as well as a global sales distribution network. Find out more about Snorkel at www.snorkellifts.com.