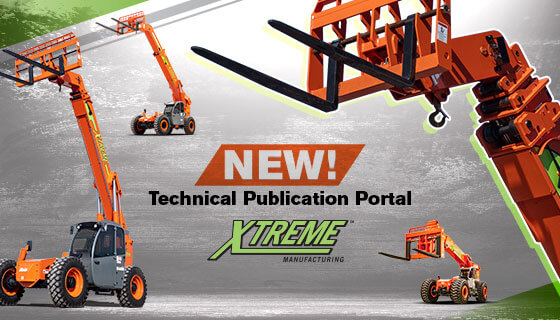 Xtreme Manufacturing is very pleased to announce the launch of its new technical publication portal.
Accessed via the company's website at www.xmfg.com, in the 'Service & Support' section, the new online portal provides fast and easy access to the complete library of current and archived Xtreme Manufacturing operator manuals, parts and service manuals, bulletins, schematics, recommended spare parts lists, load charts, quick reference guides, and much more.
The free-to-access portal is available 24/7 and does not require any log-in credentials. Fully optimized, the portal can be accessed on mobile, tablet and desktop, for ease of use by both office and field based users.
With the new portal come many new and upgraded features for Xtreme equipment owners. New interactive manual functionality provides highly efficient automated searching of current and archived manuals to locate correct spare part numbers quickly. Service bulletins can be searched by serial number, making it easy to locate all associated service bulletins with a particular machine. All technical publications can also be downloaded from the portal in PDF format.
Jamie Graham, Vice President of Product Support for Xtreme Manufacturing and Snorkel, said, "We are delighted to roll-out our new technical publications portal. Following the launch of a similar platform for Snorkel in 2019, we have been developing and beta-testing this system for Xtreme, which delivers unprecedented access to important technical publications, which are now at the fingertips of our customers."
The new Xtreme Manufacturing technical publications portal is now live at www.xmfg.com/techpubs.