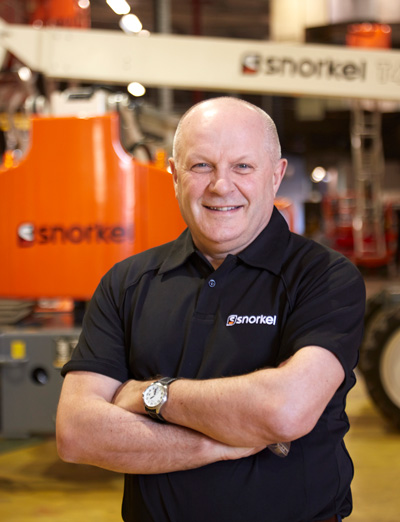 Henderson, Nevada, USA (1st June 2018) Xtreme Manufacturing and Snorkel, global manufacturers of rough terrain telehandlers and aerial work platforms, are pleased to announce the promotion of John Gill to Chief Manufacturing Officer (CMO).
Reporting directly to Xtreme Manufacturing & Snorkel CEO, Matthew Elvin, this is a new role that has been created to provide direction at an executive level overseeing all manufacturing operations.
John Gill joined the business in November 2016, as Director of Manufacturing Operations based at the Snorkel facility in the U.K. Originally from North East England, he began his career in the power generation industry before joining Komatsu in 1988 in its production engineering department. During his 13 years with Komatsu, he held positions within production quality and purchasing management, before being promoted to manufacturing director in 1997, where he was responsible for manufacturing, purchasing and materials strategy development for Komatsu Europe.
In 2001 he joined JCB as managing director of JCB Heavy Products, a role that he held for eight years, before becoming managing director of the telehandler division, a job he held for four years. He then left to take up an 18 month assignment with Siemens Wind Power in Denmark before joining Terex in January 2016 as general manager and operations director for its Minerals Processing Systems plants in Coalville, UK and Subang Jaya, Malaysia.
Since joining the team, John has been fundamental in improving the efficiency and output of the European production facility, and now is responsible for developing and implementing world class production methodology across all of the manufacturing sites within the group.  In his role of CMO, John will ensure that manufacturing excellence is embedded in the business, through continuous improvement across the key areas of safety, quality, cost and delivery.
Matthew Elvin, CEO said "This role has been added to the executive team as a logical step in our group's development. John brings a significant level of manufacturing experience to our business, and his leadership across all of our production sites will help us to continue to develop and exceed our customer expectations globally."
Of his new role, John Gill said, "I have enjoyed making a difference with Snorkel to date, through the implementation of lean production techniques and I look forward to contributing to the business on a global basis. I am excited to work with the production team members around the world."
John's promotion is effective immediately. He will remain based in the U.K. but will travel regularly to all facilities.