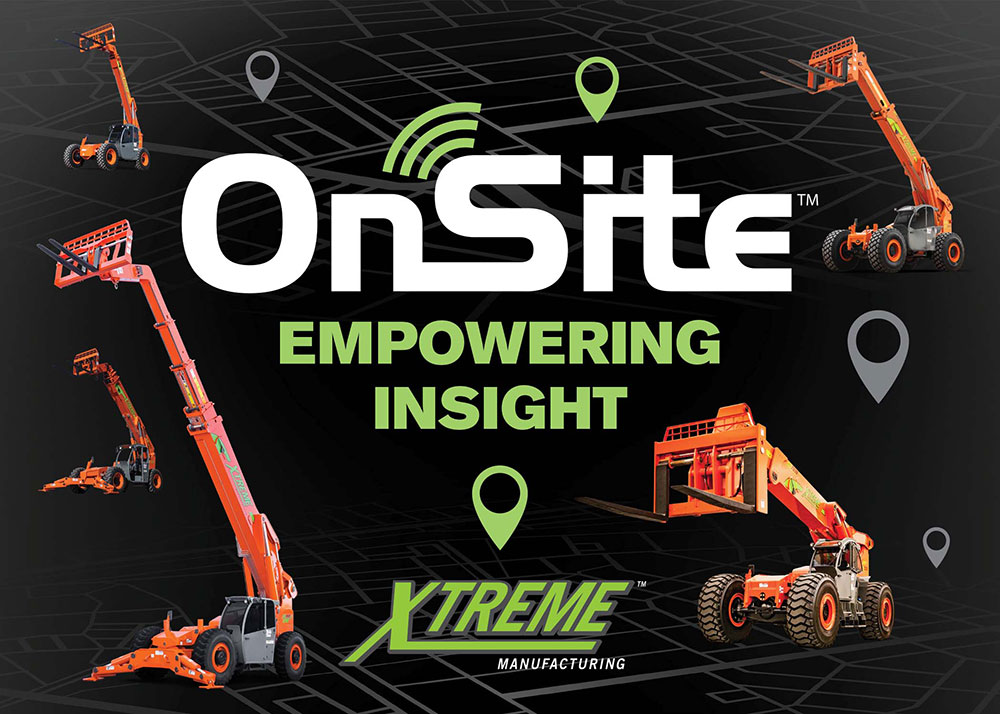 Xtreme Manufacturing™ is very pleased to announce the global launch of its new telematics offering, Xtreme OnSite™.
Powered by Trackunit®, Xtreme OnSite is a full-service telematics offering that is available on all current Xtreme Manufacturing telehandlers, many of which are now telematics-ready featuring a compatible connection for the telematics module.
Available globally, Xtreme OnSite can be optioned at the time of ordering for factory-install, or for field-installation by an authorized Snorkel dealer or service center. Xtreme offers a choice of telematics subscriptions, including a Data and API package that can feed data from Xtreme telehandlers directly into a customer's existing telematics dashboard, as well as a Data and Dashboard package which includes access to a Trackunit branded dashboard where a customer can access Xtreme machine data, as well as feed in other products from other brands. Both packages include the supply and install of the telematics module.
Subscription packages are available in a choice of either 24-months or 60-months, and an optional access keypad with RFID capabilities is available. The type of data that can be accessed in Xtreme products includes key information such as the machine status (on/off), machine hours, the machine's physical location, and the battery charge level, as well as engine parameters and codes.
Access to real-time information provides opportunity for improved product support. Xtreme Manufacturing has trained its product support teams on the Trackunit solution, enabling them to provide faster and more accurate troubleshooting support remotely.
"Trackunit is one of the leading telematics providers for our industry, and we are very pleased to have partnered with them to develop this solution for our customers" said Matthew Elvin, CEO, Xtreme Manufacturing & Snorkel. "In line with our keep it simple approach, we focused on making it easy for our customers to access all of their fleet data in one place, either through the Trackunit dashboard, or by using API's to feed the data into their existing telematics tools. This maximizes the usability of the data to the customer, as they can see everything in one place."
"We are proud to work with an industry-leading OEM in bringing this technology to the market. Xtreme has taken a truly customer-centric approach to the data that their customers will find value in. Leveraging the Trackunit ecosystem, they enable customers to drive useful insights back into their organizations." said Jeffrey Cohen, President, Trackunit.
Trackunit is a provider of fleet management solutions to the global construction equipment industry. They collect and analyze machine data in real-time to deliver actionable, proactive and predictive information, empowering customers with data-driven foresight. Headquartered in Denmark, Chicago, IL and Singapore, and with subsidiaries in Sweden, Norway, France, Holland, Germany, UK, Australia and Japan, Trackunit supports its customers globally. Trackunit were selected as the telematics program partner for the Ahern Family of Companies in June 2020. For more information on Xtreme OnSite telematics, please visit www.xmfg.com/onsite.